Episode 18: Holiday at Acopaulo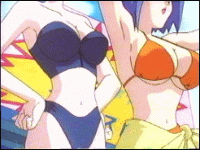 | | |
| --- | --- |
| Japanese Name | Holiday at Acopaulo |
| English Name | Beauty and the Beach |
| First Japanese Air Date | Not available |
| First American Air Date | June 24, 2000 |
This is the weakest of the banned episodes. This one isn't really all that bad. In Japan things like this happen in almost every anime series. For the USA however, it was too much to allow US children to see James in a blow up suit.


During this episode there was a beauty contest. A couple of the entrants included Misty, Jesse, and James. Since James is a guy, he used a blow up suit to gain some fake breasts to show off during the contest. During the contest, James and Jesse make fun of how small Misty's boobs are and how they are 'underdeveloped' and are not as big as James and Jesse's. This part I think was kind of harsh and I agree that this should have been edited out.

These are the quotes that were said to Misty while Misty, James, and Jesse were on the stage:

(After pushing Misty off stage)
Jesse: "Sorry, but we're going to win!"
Misty: "James, aren't you a boy?"
James: "Boy, girl, doesn't matter as long as I'm beautiful."
Jesse: "Don't waste our time and bug off."
(Motioning Misty to leave)
James: "I can even make my chest bigger."
(Inflates breasts to become bigger. Misty's eyes bulge out)
James: "Finished!"
Brock: "Suddenly, two mistresses appeared. They don't think their sudden appearance is rude. How will the judges react?"
(Everyone cheers)
Brock: "Everything is okay. They are welcome."
(Misty starts crying)
Jesse: "How's that?"
(While holding the breast balloons)
James: "Wait until your older, so you will have these. Then come and compete."


Team Rocket does what they do best at the end of this episode and get blasted off after trying to capture their target Pokemon. Finally the episode ends with Ash's mom winning the contest. Congratulations!


This episode will most likely never get aired again in America. Kids WB tried to air it once with a cut version of it. They edited out pretty much the whole beauty contest and the episode did not make much sense at all. It isn't vital to the plot of the series so, we aren't going to miss much anyway.